Anytime™ Tea Cup - Set Of 2
Discover this hip drink tea you've been hearing so much about. Fashionable, modern and completely instagrammable is the black and white Anytime Teacup. Share the enjoyment with friends either online or in person as this chic cup comes in a set of two.
Versatile tea cup

Stackable teacup

Teacup for sensitive hands/ skin

Fashionable tea cup

Easy grip cup
Material
Porcelain. silicone. PP plastic. Stainless steel
Size & Volume
Size: 9.4 cm X 8.5 cm
Volume: 0.23 Liter / 8.00 oz
Use & Care
Dishwasher safe - Not for use on stove top - Microwave safe
Maximise your infusion
for better taste, aroma color
and ultimately enjoyment
Elegant, modern, balanced
clever, creative and functional
Steeped in good taste
Carefully hand crafted by skilled artisans Using selected materials
Being fashionable isn't just about the clothes you wear. It's a complete lifestyle. Right now, tea is the most fashionable drink you could be drinking. Which is likely what brought you here.


Brewing tea doesn't need to be elaborate. It's the one of easiest drinks to enjoy and get right. If the concept of loose leaf tea is looking too daunting, then tea bags are the way forward for you.
With the handy slit in the rim of the contemporary Anytime cup, your tea bag string will remain in place as you sip away learning to love this new beverage. This slit is perfect for showcasing the brand of tea that you're currently sampling. Which is surely the coolest brand available right now. Also find comfort in the silicone sleeve which keeps your cup as cool as your Instagram feed.

As this cup comes in this handy set of two, you can show off your newfound love of tea to your friends. Take an insta-worthy pic of this photogenic modern tea cup so your followers can see how in vogue you truly are.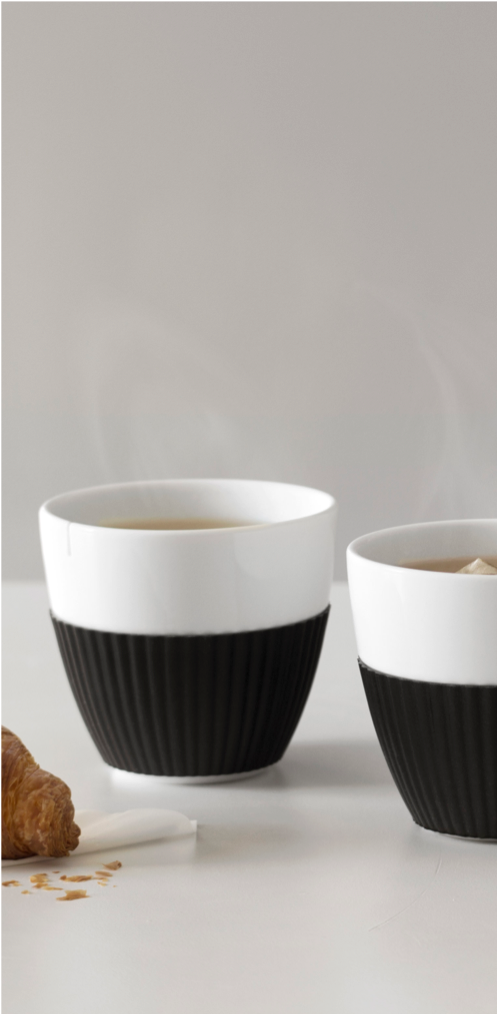 FAQ:

What is the notch in the rim of this teacup for?
This handy notch is for holding your tea bag tag, keeping it out of the way while you drink and making sure it is positioned just right so everyone can see what you're drinking in your next snap.
Is the silicone sleeve removable?
Of course! The silicone sleeve is great for grip and ensures you can hold your cup comfortably even when it's full of fresh tea. But we know that a change is as good as a holiday, so sometimes you'll want to enjoy your tea without it. Simply wiggle it free from the cup to expose the smooth white porcelain underneath.
Is the porcelain chemical free?
Our porcelain products are all made from a premium porcelain that is 100% lead and cadmium free, and hand-finished by skilled artisans. When you select the best tea you want to be sure that nothing is compromised and especially not leaching harmful chemicals into your tea. Our porcelain has been selected with your health in mind so you can focus on enjoying your favourite beverage.
Does the porcelain have a glossy or matte texture?
The Anytime Teacup has been finished with a glossy glaze. This gives it a classic look that suits most décors and looks eye-catching in any light. The matte texture of the silicone sleeve provides a wonderful contrast in both colour and texture.
What infuser should I use with this cup?
All of our infusers are a perfect fit for this cup. If we had to pick one, we'd recommend the Infusion Tea Strainer, as it fits perfectly over the rim.
Frequently Asked Questions
Material
Porcelain. silicone. PP plastic. Stainless steel
Size and Volume<
H:9.4 cm X L:8.5 cm X Vol:0.23 ML - 8.00
Use & Care
Dishwasher safe - Not for use on stove top - Microwave safe