VIVA Recharge: Travel Mug Reinvented
Patented Steep Control. Leak-Proof. Makes Tea or Coffee Hot or Iced — Anytime, Anywhere
Finally, it's here! The travel mug all tea and coffee lovers have been waiting for!
Regular travel mugs are designed to store water or beverage that are already made. And that means one more thing you need to clean.


Recharge by VIVA is a versatile solution that brews hot and iced tea. It also makes coffee. It solves the headache of over-steeping, leaking lids and maintaining the optimal temperature of our drink until the very last drop.


You can use the built-in Smart Brewer system to steep your favourite breakfast tea in the morning or make iced coffee on a hot afternoon. Or maybe you enjoy serving up delicious iced cold Southern sweet tea for two, just like your grandma made, in under 4 minutes?Whatever your choice, your beverage will last all day.


WHAT MAKE RECHARGE SPECIAL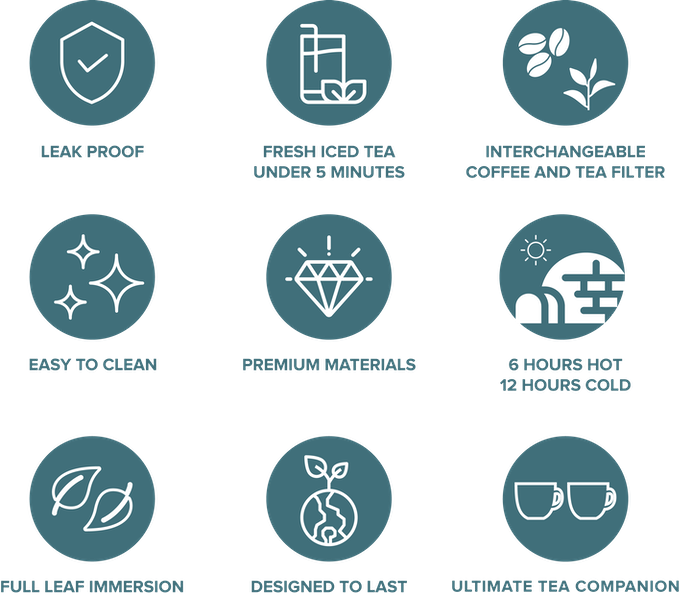 FEATURES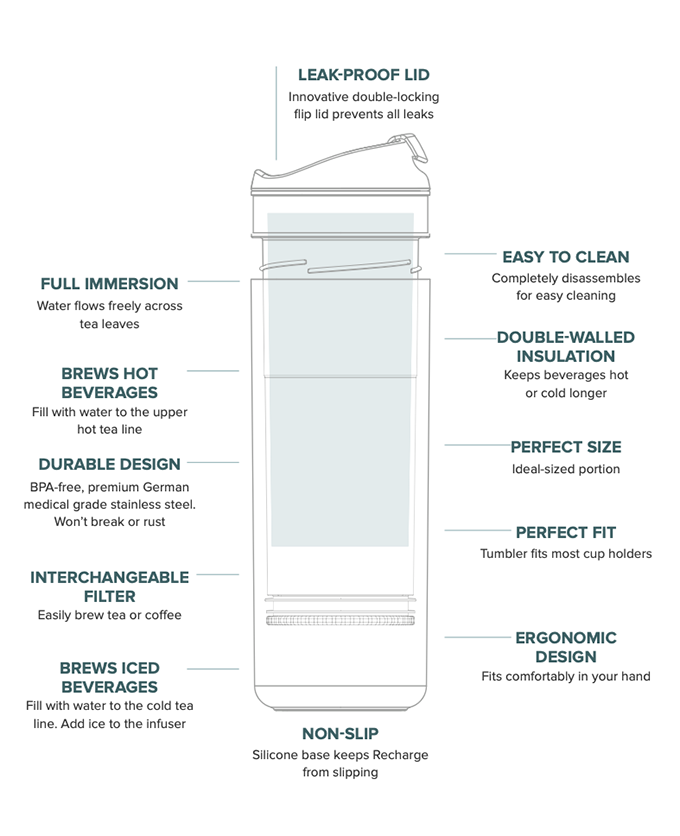 Recharge is the Swiss Army knife for Beverage. It's a tumbler, teapot, tea infuser, iced tea maker, coffee press, thermos, and water bottle. This one does it all. It's everything you need for tea and coffee at a fraction of the cost.


On a budget? Recharge is an economic choice for a premium loose leaf tea experience.


Minimal living space? Recharge can help you declutter your cupboard.


Unlike other tea infusers, Recharge has a large capacity. It makes over 16 ounces (460ml) of delicious drink, keeping you satisfied and hydrated all day. And when you remove the infuser basket, Recharge holds 18 ounces (520ml) of liquid - enough to get your Grande fix.



The double-sealing mechanism in our no-leak lid passes the Shirshasana test. Guaranteed.

Say good-bye to bitter tea. Our one-of-a-kind brew stop innovation, the Smart Brew, allows you 100% control over the steeping time to achieve optimum flavour.

Get the most from your luxury loose leaf tea. Water flows across all the leaves to achieve the most robust tea experience available today.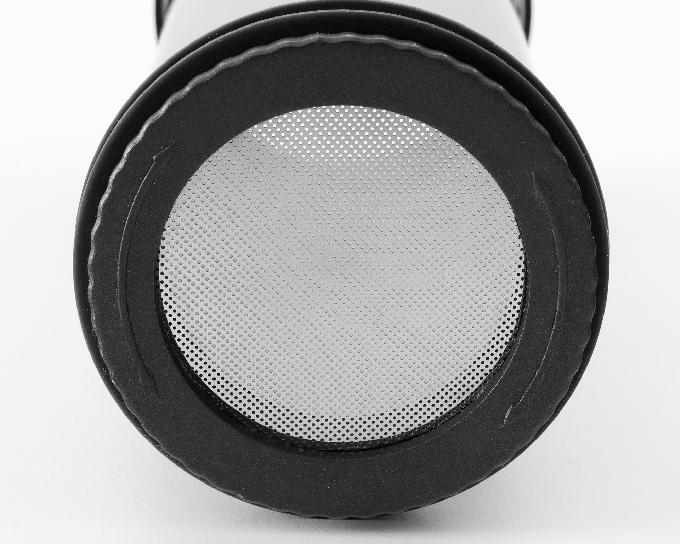 What's your pleasure? The innovative Smart Brew system comes with a uniquely engineered micro-filter infuser designed to handle even the smallest tea particles like hibiscus and rooibos.

The ergonomic design from top to bottom will feel like an extension of your body.

No muss, no fuss. Completely and easily disassembles for quick cleaning.

Take it everywhere. Designed to fit most cup holders.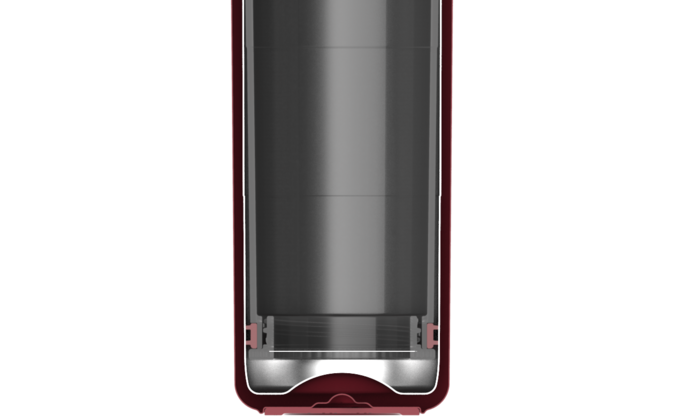 Long-lasting freshness guaranteed. Hot liquids stay warm for 6 hours. Cold liquids stay chilled for 12 hours. Brew your hot tea or iced tea at home or on the go, and it will keep its ideal temperature for as long as your beverage lasts.

Need a cold drink to hydrate after a workout or yoga class? No problem. Simply remove the Smart Brew basket and take your Recharge with you as a daily to-go travel mug. Not only will your drink stay hot or cold for hours, taking out the infuser basket adds another 2 ounces (60 mL) to the Rechargeso you can fill it with your favourite Grande-sized beverage. And by choosing Recharge, you'll eliminate a disposable cup and help the environment by reducing waste.

Are you someone who shops for quality products that will last for years and years? Recharge is made of premium, German medical grade stainless steel. This is the most durable stainless available -- it will not break or rust. We're engraving our name directly on the powder coating so the natural stainless shines through as our guarantee to you that the Recharge won't rust.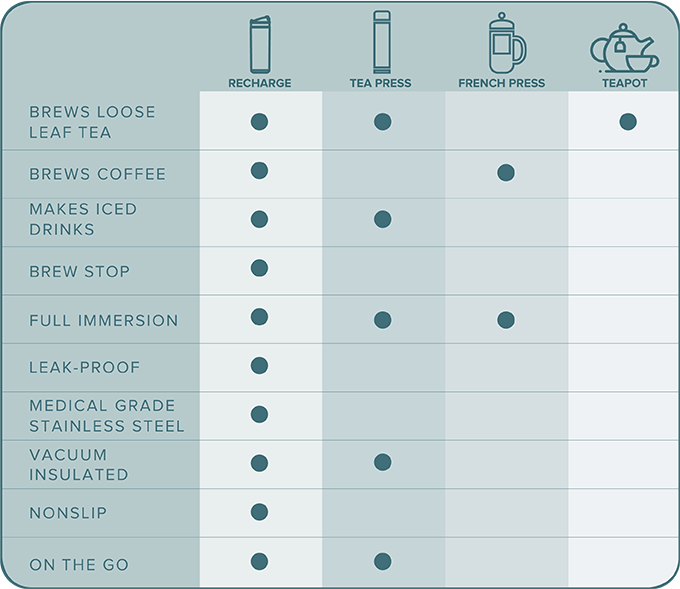 ORDER YOUR RECHARGE NOW!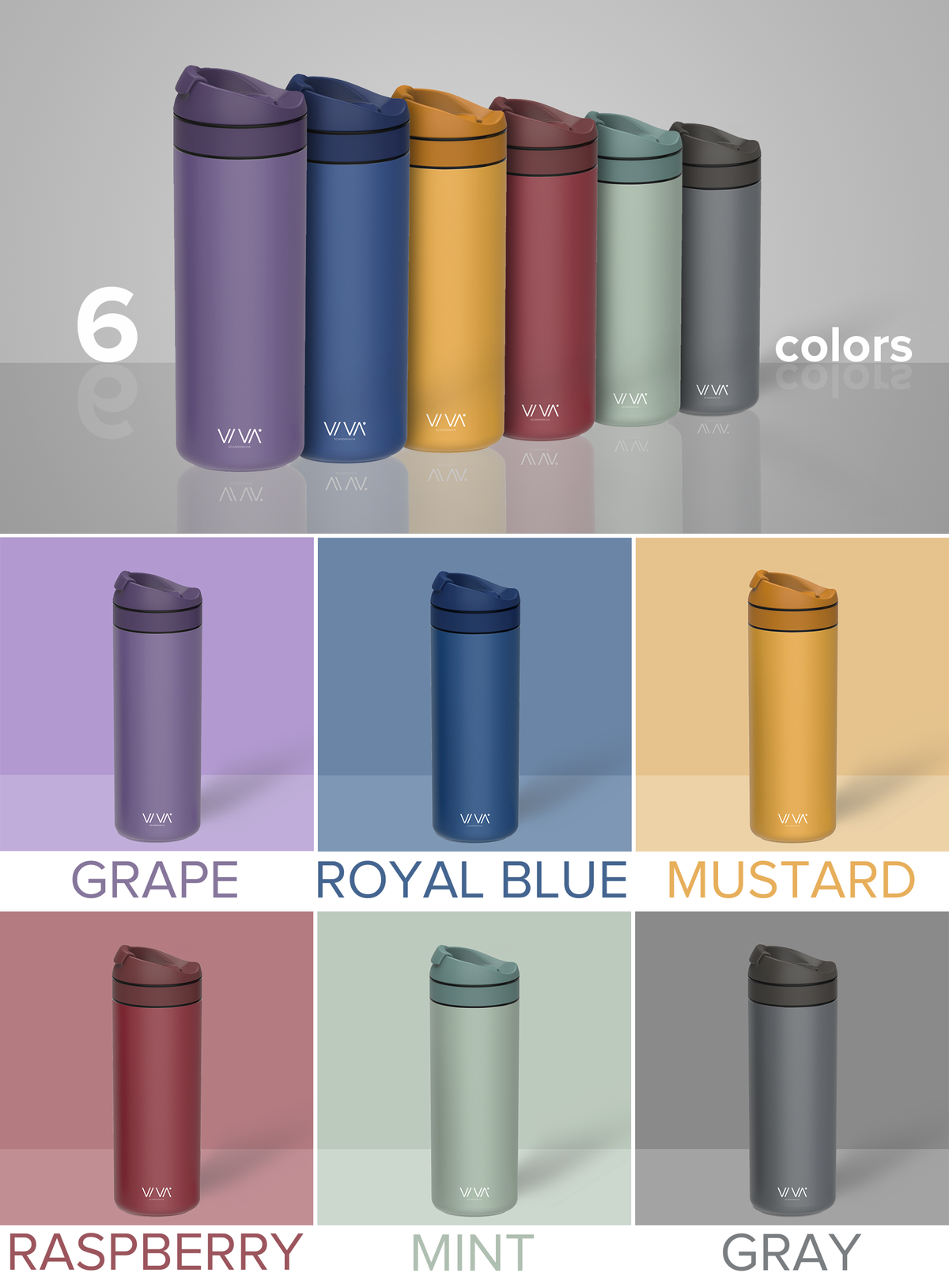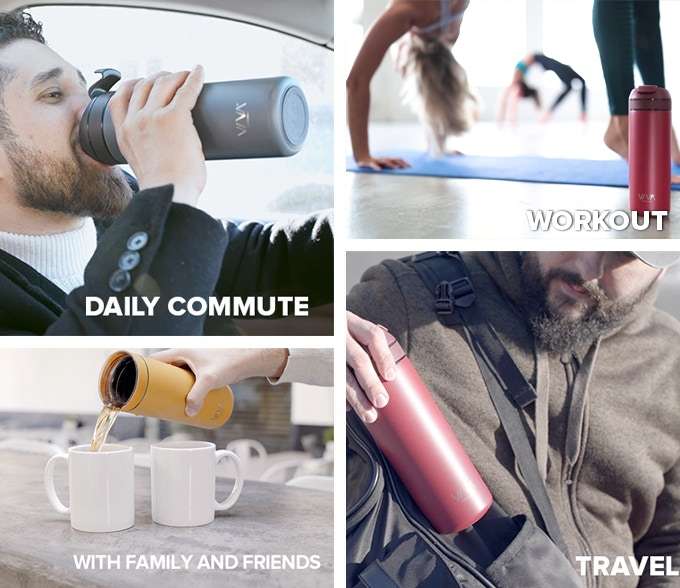 1. Add a tablespoon of your preferred tea.


2. Pour hot water to the upper water line.


3. Insert the Smart Brewer partway and let it steep 3 to 5 minutes.


4. Push down the Smart Brewer to complete steeping, and you're ready to go!
1. Add Tea and pour hot water to the lower water line.
2. Let it steep 3 to 5 minutes, then insert the Smart Brewer all the way.


3. Lock the Smart Brewer, add your preferred sweetener and top with ice. Give it a little shake, and it's ready to drink!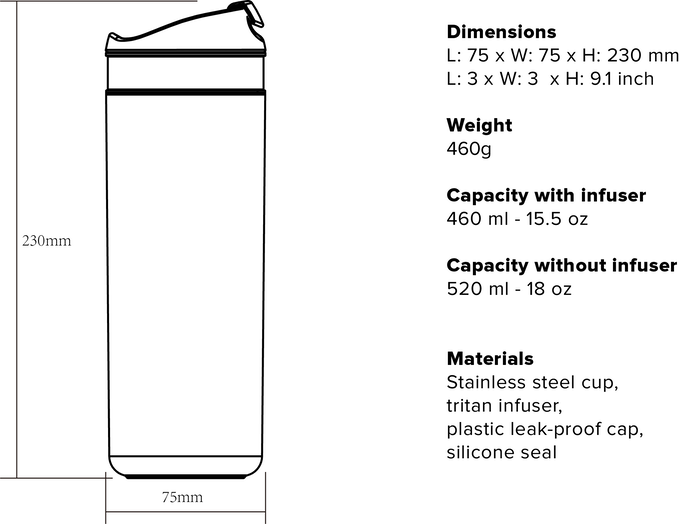 It all started 3 years ago with an idea: how to achieve the perfect loose leaf tea brewing experience in single device at home or on the go.


Our team of designers and engineers worked tirelessly, through trial and error, prototypes and tests -- and many cups of tea-- to find tune the product into something we are ready to show to the world.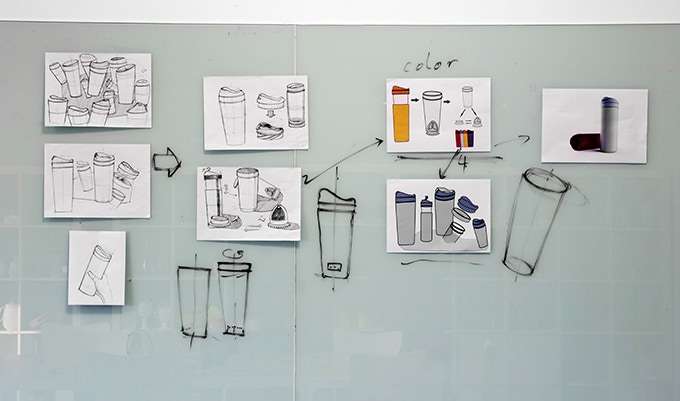 Chimene Quillen
It's really well built, sturdy and keeps your drink hot almost forever. Love the colour. 
Super pleased and it might've been the best quality item that I've received!🙈😍 Thank you guys!
Anna Aleksandrovska
Received my Recharge and love it! Very easy to use. At first I was worried the insert would be too hard to pull up, but when there's water in it - it slides easily. And the holes in fine enough to pull all the loose tea out of the drink.
Thank you!
Sigmund & Adam
VIVA STRIVES TO MODERNIZE TEA TRADITIONS
Our mission is to inspire the world to relax and feel better with the perfect tea experience, every single time.
Elevating your tea experience...
At VIVA, we have our tea lovers needs in mind when it comes to every detail of aesthetics, functionality and craftsmanship to provide you with the perfect tea experience, every single time.
VIVA offers everything to relax, reflect or socialise over the perfect tea serving. We started with the perfect teapot, from there we created a full range of tea accessories for different social interactions, styles, personalities and colour palettes. 
Inspiring the world to relax and slow down with the perfect tea experience, every single time.
Premium Material
Carefully hand crafted by skilled artisans Using selected materials
Designed For Tea
Maximise your infusion for better taste, aroma color and ultimately enjoyment
Designed in Scandinavia
Place one order to unlock content, event and early tester rewards exclusively for members.